Transportable Deployable Communications Systems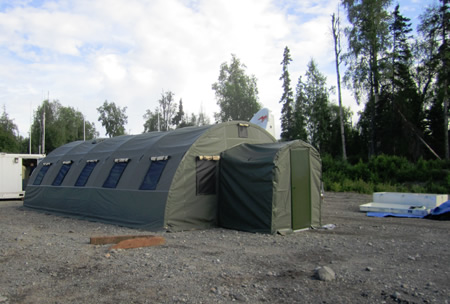 Who:
USNORTHCOM: The United States Northern Command
Where:
Alaska
What:
USNORTHCOM has two (2) Transportable Deployable Communications Systems in Alaska, which provide critical emergency communications and life support capabilities during emergencies. The South Zone Transportable unit (TAS) includes five modules and two tents. USNORTHCOM needed a dependable flooring solution that could protect its vital communications equipment, withstand heavy and repeated use, and hold up under harsh weather conditions.
Solution:
Because of its unique cable and communications management capability, multiple-use applications, resistance to harsh weather conditions, and ability to be easily and quickly expanded and/or re-configured, Bike Track's 2-inch ICM option was the perfect flooring solution for the US Northern Command's needs and objectives.
Recently, USNORTHCOM added additional Bike Track flooring to the Marine Corps Training Facility on Joint Base Elmendorf-Richardson (JBER). The flooring at JBER is being used to protect the temporary power and communication lines from the environment as well as heavy traffic as everyone comes in for deployment briefs.
Why Bike Track? Bike Track has more than 20 years experience providing durable, modular, flooring solutions to military, government, and private organizations worldwide. Our specialists will help you design the exact floor plan you need and our global distribution network will get it to you anywhere in the world -- on time and ready to install.