Flooring For Tactical Operations Centers (TOCS)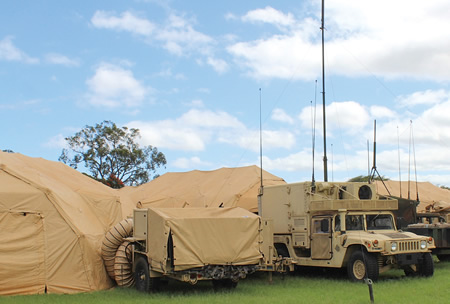 Who:
48th Infantry Brigade Combat Team (IBCT) of the Georgia Army National Guard, and its constituent battalions.
Where:
Everywhere. The 48th is a modular IBCT that serves its state and country at locations around the world (as it has been doing since 1825).
What:
While conducting operations in the field, the 48th IBCT Brigade Headquarters maintains a Tactical Operations Center (TOC) with numerous work-stations that require constant and uninterrupted connectivity. The TOC also sees a great deal of foot traffic regardless of where it is moved and assembled. Additionally, in combat or disaster relief operations, the TOC could be required to move frequently. Similarly, the subordinate units that comprise the 48th IBCT maintain their own battalion-level TOCs. To that end, the 48th needed durable, mobile, non-slip, and easily maintained flooring that also provides cable and communications management.
Solution:
Because of its durability, quick assembly, and cable management capability, Bike Track's 2-inch ICM option has been the ideal flooring solution for the 48th IBCT and its battalions since 2012. Initially they purchased over 400 sheets; in 2014, as their needs and numbers grew, they purchased 100 more. Another 240 panels were added in 2016, bringing their total square footage to 10,360. 
As part of their initial order Bike Track provided the 48th with a layout of how to connect all of the shelters and flooring of their brigade TOC. As their sheltering needs have grown and evolved, Bike Track has continued to provide layout solutions upon request. 
Why Bike Track? Bike Track has more than 20 years experience providing durable, modular, flooring solutions to military, government, and private organizations worldwide. Our specialists will help you design the exact floor plan you need and our global distribution network will get it to you anywhere in the world -- on time and ready to install